Thomas E. Gauthier
Partner | Sacramento
Attorney Insights
More from Thomas E. Gauthier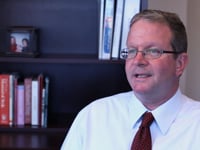 What I Do When A Client Comes to Me in a Stressful Legal Situation
One of the Principles I Live My Life By
More from Thomas E. Gauthier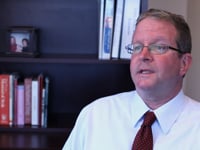 My Expertise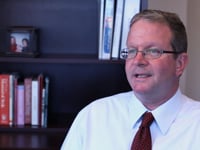 What I Do When A Client Comes to Me in a Stressful Legal Situation
Overview
Tom Gauthier is a Partner in Lozano Smith's Sacramento office. With over 20 years of experience representing public agencies and public officials, Tom serves as general counsel to school districts and community colleges throughout Northern California. He specializes in labor and employment law, and also has broad expertise in key governance laws such as open meetings rules, public records, ethics, and conflicts of interest.
Focusing on prevention of legal disputes and ensuring best practices, Tom provides day-to-day support to public agencies with the goal of creative problem solving. He regularly counsels clients on employee/employer relations and negotiates labor agreements throughout California.
When conflict arises, public agencies turn to Tom for successful representation in employee disciplinary hearings, arbitration hearings, court litigation, and administrative forums such as Public Employment Relations Board hearings. A practical and solution-focused approach helps clients resolve conflict in their best interests.
Experience
Tom's practice focuses on the following areas:
General Governance

Brown Act compliance
Effective board governance
Conflicts of interest
Public records laws

Labor & Employment Law

Employee discipline & dismissal
Effective evaluation systems
Leaves of absence
Employment contracts & recruitment
Wage & hour rules
Free speech
Employment discrimination & harassment
Employee complaints & investigations

Student Discipline & Student Rights

Free speech
Equity & access laws
Uniform complaint procedures
Constitutional law on campus

Technology & Innovation

Lawfully managing data & records
Best practices for public records requests
Student supervision & rights
Technology contract requirements
Trainings & Presentations
Tom leads interactive, hands-on seminars on topics such as best personnel practices, open government laws, student-related laws, constitutional law, ethics in public service, and school board governance. He is a frequent presenter on behalf of leading statewide associations, including for example:
Association of California School Administrators (ACSA):

Student Records, Privacy and Parental Consent
Laws as They Apply to Superintendency
Brown Act, Public Records Act and Conflicts of Interest
Signing on the Dotted Line
LCAP/Dashboard Evaluation

California School Boards Association (CSBA):

Reporting Gifts on Your Form 700
Legal Update: Collective Bargaining, LCFF
Brown Act

California Association of School Business Officials (CASBO):

California Voting Rights Act
Workers' Compensation Insurance
Principles of School Law

Small School Districts' Association (SSDA):

Effective Practices in Personnel Management
Preparing for Negotiations with Retirement System Changes
Teacher Evaluation and Discipline
How to Win a Certificated Dismissal Case
Developing the Board Agenda
Employee Leaves
Brown Act and Beyond: Successful Board Relationships
Publications and Resources
Mr. Gauthier is a frequent author of legal updates and client resources. He regularly publishes articles in response to changes in the law or legal decisions affecting public agencies.
Representative articles include:
California Passes New Laws to Protect Student-Athletes AED's
#MeToo Movement Leads to Increased Harassment Prevention Training and Related Requirements for California Employers
Asking Job Applicants about Criminal Conviction History: What You Need to Know about Assembly Bill 1008
California Travel Ban Does Not Apply to Local Agencies
Board Member Toolkit (Lozano Smith Resource)
It's Time to Fill Out Your Form 700! (Podcast Episode)
Education
Mr. Gauthier received his J.D. from the University of California at Davis School of Law in 1996. He received his B.A. from the University of California at Riverside in Political Science and Administrative Studies,
cum laude
. Mr. Gauthier has received certification through ATIXA as a participant in Level 1 and Level 3 ATIXA Civil Rights Investigator Trainings.
Professional Affiliations
Member, California Council of School Attorneys
Significant Cases
Successfully defended Brown Act lawsuit by school board member related to Superintendent's evaluation process - Duval v. Coalinga-Huron Unified School District (2000) Fresno County Superior Court Case No. 632062-6
Won court judgment halting amendments to city general plan that would harm school facilities and funding; obtained award of attorney's fees for school district - Atwater Elementary School District v. City of Atwater (2006) Merced County Superior Court Case No. 148355
Won decision at Public Employment Relations Board regarding disputed salary formula in union contract - Cottonwood Teachers Association v. Cottonwood Elementary School District (2009) Public Employment Relations Board Case No. SA-CE-2399-E
Successful defense of lawsuit seeking to circumvent grievance procedure and obtain 14 years of back pay - Nichols v. Sacramento City Unified School District (2011) Sacramento County Superior Court Case No. 34-2010-80000720
Won arbitration decision upholding school district interpretation of salary schedule affecting 1,100 employees - Elk Grove Unified School District v. AFSCME (2015) C.S.M.C.S. Case No. ARB-13-0462
It's that time of year, when California public servants must prepare and submit their annual statements of economic interest. The statement, commonly referred to as Form 700, is due on April 2 this year. Devon Lincoln talks to ethics expert Tom Gauthier about common pitfalls in filling out the form, what you need to know to get it right, and why it matters.